The fight against online child sexual exploitation and abuse
Our Prevention and Response Strategies to Online Child Sexual Exploitation and Abuse
Why children need protection online
The rise of internet usage among children presents us with a great opportunity to provide the younger generation with modern technological skills. With these skills, they can connect, learn, and explore the world in ways that were previously unthinkable. However, we must be mindful of the potential risks and dangers that come with the internet. As a community, we can work together to equip our children with the knowledge and tools to recognize and avoid these risks. By doing so, we empower them to take control of their own safety and well-being online. With our collective efforts, we can create a safer online world for everyone and make sure that the internet remains a place of endless possibilities and positivity for generations to come.
Awareness and Education Strategy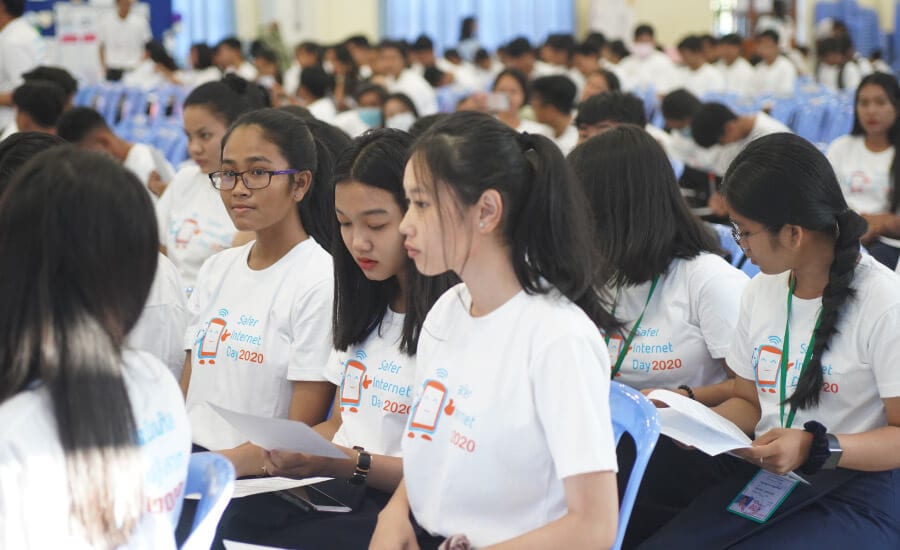 The importance of online safety awareness and education cannot be overstated, especially when it comes to protecting children from sexual abuse and exploitation. With the vast reach of the virtual world, it is not uncommon for children to be exposed to various risks, including inappropriate content, cyberbullying, and grooming.
That is why APLE is committed to providing effective online safety education programs that equip children with the necessary skills to recognize potential threats and establish healthy relationships with others online. These programs help children to understand the dangers of the internet and take responsibility for their digital behavior. Furthermore, APLE's programs empower children to protect themselves from potential threats and assist them in identifying and reporting inappropriate behavior to trusted adults or child protection services. By promoting online safety education, APLE aims to ensure that children can confidently and safely navigate the digital world and enjoy positive online experiences.
Training for Protective Adults
Training for Parents, Educators, Frontline Professionals
APLE offers comprehensive training programs to equip parents, educators, social workers, and other child welfare professionals with the necessary knowledge and skills to ensure the safety of children online. Our training programs leverage the latest research and practical strategies to help participants understand the nuances of online safety principles, risk prevention strategies, and effective interventions in cases of online abuse. Additionally, we provide guidance on how to report concerns and effectively monitor children's online activities. These programs are tailored to meet the needs of participants and delivered in an engaging and interactive manner.
Capacity Building Strategy
Capacity Building for Criminal Justice Actors
Investing in capacity building for criminal justice professionals is a top priority in our efforts to combat online child sexual exploitation and abuse. APLE is dedicated to providing comprehensive training and mentoring programs that equip law enforcement officials with the necessary knowledge and skills to stay abreast of the latest advancements in techniques, technologies, and research within the field. By participating in these programs, criminal justice professionals are better equipped to detect and respond to cyber-enabled sexual crimes against children and to safeguard and protect vulnerable minors. Furthermore, with enhanced competency in identifying, investigating, and prosecuting online crimes against children, law enforcement officials are better positioned to ensure that perpetrators of online crimes against children are brought to justice.
APLE's victim support and assistance program is to ensure child victims of online sexual exploitation and abuse have access to necessary support services and justice. We provide psychological support with the focus on helping children heal and overcome the trauma and long-lasting effects of abuse, in addition to legal protection. We work in collaboration with government agencies and specialized NGOs to ensure child victims receive the needed recovery and reintegration support. At APLE, we aim to promote the availability of multi-disciplinary approaches tailored to meet children's individual needs for support and protection.
Hotline Intervention Strategy
The internet has brought about a number of challenges for law enforcement and hosting providers in terms of monitoring and preventing the sharing of explicit content by offenders. To combat this issue, APLE has entered into a partnership with INHOPE to operate a globally connected hotline that plays a critical role in the fight against child sexual abuse material online or CSAM. The hotline provides a confidential and secure channel for reporting such instances, allowing the illegal content to be investigated and removed swiftly, and appropriate legal action to be taken where necessary. The hotline empowers internet users to report suspected cases of online child sexual exploitation and seek professional assistance.
Hotline Intervention Strategy
In 2022, APLE expanded our efforts to combat the proliferation of Child Sexual Abuse Material (CSAM) through a strategic partnership with the Canadian Center for Child Protection (C3P). Through this collaboration, we joined forces to work on Project Arachnid, an innovative and victim-centric set of tools designed to combat the growing threat of CSAM on the internet. Project Arachnid combines automated CSAM detection methods with a dedicated team of analysts across the globe, enabling us to quickly send removal notices to electronic service providers. Our joint efforts allow for a rapid response to harmful and abusive material involving children, offering a global solution to disrupt the distribution of CSAM. We are proud to have enriched the response system by collaborating with hotlines and child protection organizations around the world.
At APLE, we create impactful campaigns and resources to increase awareness about child sexual exploitation on the internet. These initiatives are tailored to provide parents, educators, and communities with the knowledge to identify and prevent these heinous crimes. Our campaigns emphasize open communication between children and trusted adults, to create safe spaces for discussions around sexual exploitation and encourage reporting for effective prevention. We strongly advocate for child online protection policies that prioritize children's safety on the internet through collaborative efforts with governments, civil societies, and private sector actors. APLE's commitment extends to global community-led initiatives like the Safer Internet Day, which further promotes our cause. We remain dedicated to our mission and continue to be an influential advocate for ending child sexual exploitation on the internet.